For anyone who knows us at npd, you'll know we are passionate about being as sustainable as possible. We've even talked in the past about how we actively turn away clients and projects if they don't align with our passion for creating beautiful yet sustainable products – we see ourselves as gatekeepers to bad design!
Anyway, we've been talking to a lot of business owners recently who wanted to be more sustainable, but just didn't know where to start! This seems to be a common scenario, especially when all businesses are under pressure to be seen to be doing their bit for the environment. So we thought we'd try and help the situation, as well as hopefully sparking further discussion about sustainability by creating a very quick survey that enables a Founder, CEO or Product Manager to find out how well their existing product has been designed for a circular economy.
Why circular economy?
The world of sustainability is an absolute minefield. Pretty much every brand on the planet is gearing their marketing towards telling you how their product is 'sustainable' or 'eco-friendly'. But it is far too easy to make a product from recycled plastics or some sort of plant-based material (which is a great start by the way) and then claim your a completely sustainable brand. But what about the other parts of the product? The electronics? Or the other plastics which are permanently bonded to each other? Or the non-recyclable packaging it is sent out in?
In short, if we want to truly make a difference to the future of this planet we all live on, we need to be much more considerate with the resources we take from the planet, whilst simultaneously reduce the amount of landfill waste (or pollution as it should probably be called) that is buried or burnt across the world. We simply cannot continue to take and then waste.
This is where a circular economy comes in. It is essentially a method of production and consumption that ensures that any material or content that goes into a product, can be extracted at the end of its useful life and turned into something else. This closed loop of resources means that, in an ideal world, no resources or material are ever wasted.
The diagram below does a better job of describing the process than I ever could.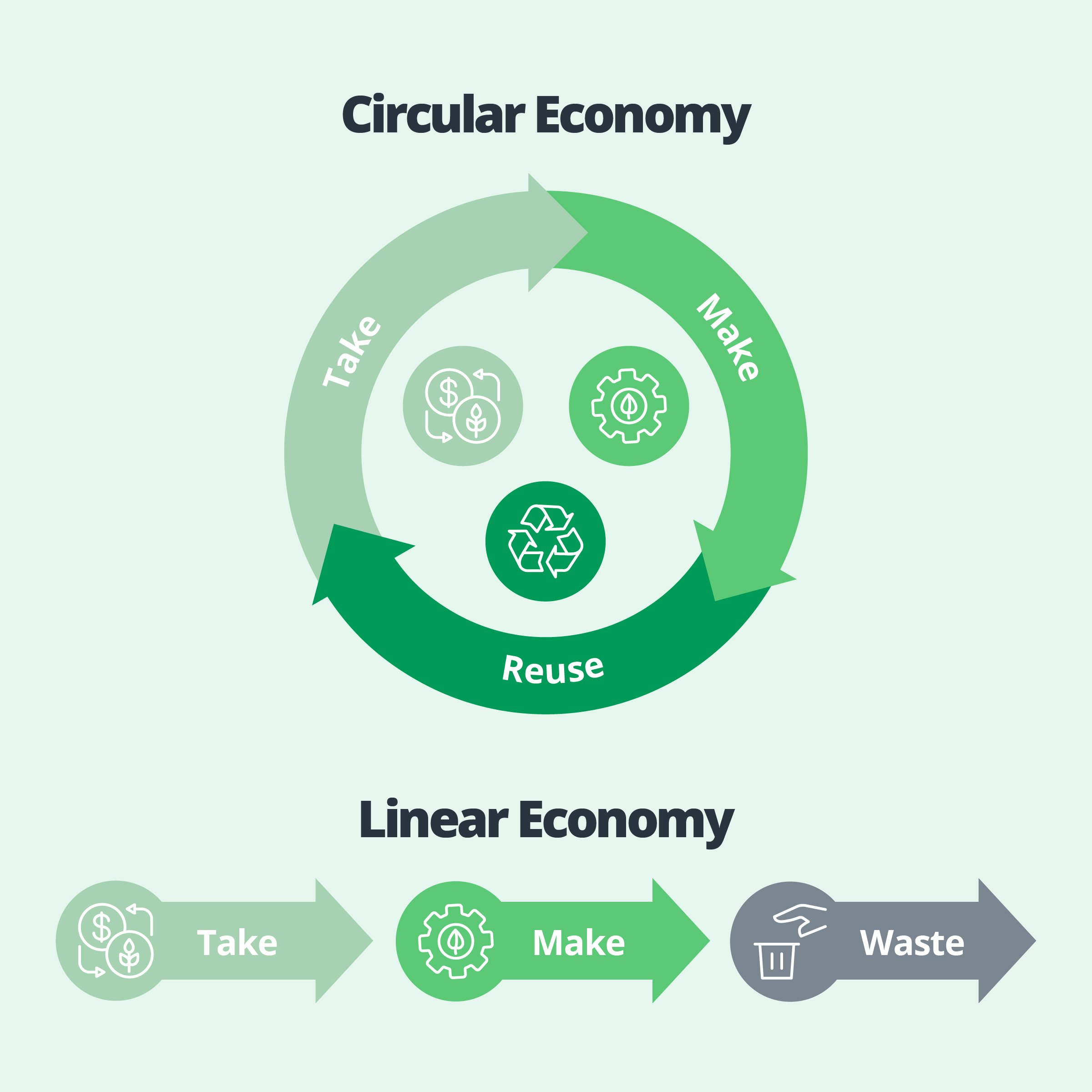 So how does it work?
We developed the Circularity Survey to hopefully show areas for improvement within the design and manufacturing of physical products. It's split into 3 main categories:
Design & Materials
How your product is designed plays a large part in how sustainable your product can be. Ensuring the product can be repaired, is made from minimal material and has no excesses that can contribute to creating excessive waste are all areas that stem from design.
Manufacturing & Logistics
Knowing and understanding how your product is manufactured is key to limiting its environmental impact. It is also critical to understand how your product is transported and what effects that has on the environment.
End of Life & Disposal
What happens to your product when it has reached the end of its useful life? Can it be broken down to its original materials and re-used or recycled? Or does it end up in landfill?
What is the outcome?
You'll get a score for each of these categories, which should help you determine which area to focus on first. And that's the key thing, this is all about making step changes rather than wholesale.
For example some quick wins could be; ensuring ALL of your packaging materials are readily recycled at home. Or choosing to screw the product together, rather than permanently gluing it. Or switching to a plastic that can be readily recycled. There are a million ways in which you can start to work towards having a truly circular product.
And that's the point of this exercise. There are loads of things you can be doing to improve your Circularity Score, but knowing where to start can be the hardest part. Hopefully we've been able to make that decision a little easier.
As with all things, this is truly a work in progress (and is far from being perfect) but we want to adapt and evolve the survey over the coming months so it really becomes a useful tool for brands across all industries. If you have any feedback on the survey or just on the circular economy itself, we're always happy to chat.
---
---
---